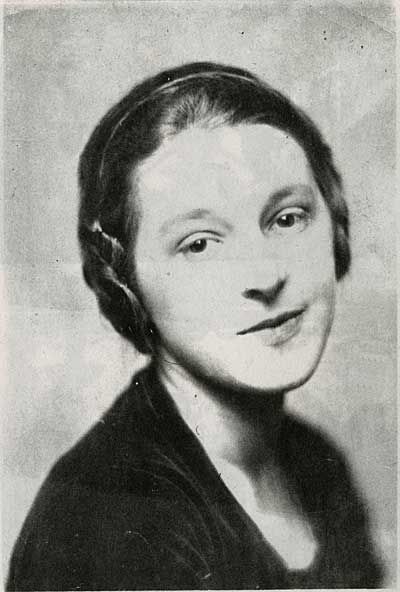 FIG.1: Lotte Reineger
Lotte Reineger(1899-1981) was a German animator and film director whose work was particularly focusing on the power of silhouette puppets. Born in Berlin, Germany, Reineger showed from a very young age her interest in making her own

cut free-handed paper silhouettes, which she used in her own home-made shadow-theatre.

No other animator has accomplished to take such a specific animation technique and make it entirely her own.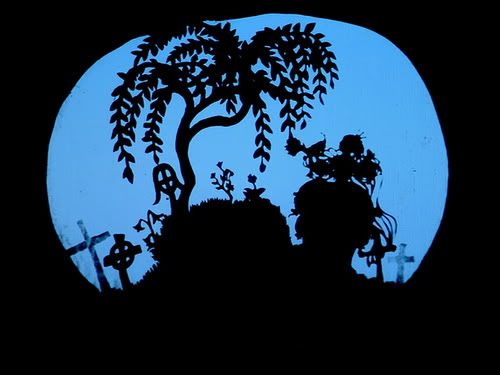 FIG.2: Cinderella
Taking one of her short films from the very famous fairy tales Cinderella as an example it is obvious how much effort has been put in it. The backgrounds are meticulously cut out showing every detail. The leaves, the grass and vegetation are easily distinguished, while the whole background was adapting to the mood of the story. This scene(FIG.2) for example is a highly ambiguous one with the gravestones from both sides and the flowers beneath the tree. The contrast between these two show Cinderella's past and present situation: she was devastated, being used by her step sisters but then her torn dress transformed into a gorgeous one and got to got to go to the Ball and meet the prince.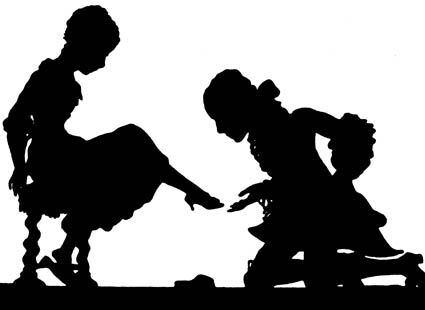 FIG.3 Cinderella
In conclusion, Lotte Reineger may not be one of the most famous animators ( mainly because her work was overshadowed from the fact that she was German and because of Walt Disney's rise in the animation and film industry) but certainly brought an ancient art form back to life and influenced a lot of modern animators- a fact that not be put to side.
Bibliography
Arnheim, Rudolph(1997)
Essays and Critiscm.
London: The University of Wisconsin Press
Dan North (2009) Film Review At:
http://drnorth.wordpress.com/2009/10/20/lotte-reinigers-cinderella-1922/
(accessed on 19/3/2011)
List of Illustrations
FIG.1: Lotte Reineger At:
http://www.animationarchive.org/labels/cutout.html
(accessed on 19/3/2011)
FIG.2: Cinderella At:
http://www.flickr.com/photos/danrn/4014594287/
(accessed on 19/3/2011)
FIG.3: Cinderella At :
http://mylittlesuedeshoes.blogspot.com/2010/03/sue-blackwell-poesia-de-papel.html
(accessed on 19/3/2011)