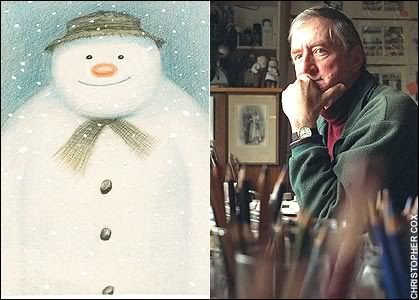 FIG.1
Famous for his book and film "The Snowman" (1978) Raymond Briggs is an English illustrator and cartoonist who apart from making his own books, he was teaching Illustration in Brighton College of Art and has been a successful children's books illustrator. Born in Wimbledon, London, to parents Ethan and Ernest Briggs, he showed an interest in cartoons from a very young age and despite his father's discouragements to follow such a profession he followed his dream straight away after 2 years of National Service and took illustartation as his chose career.
One of his most famous books, which later became an Oscar awarding animation, is "The Snowman". For many children, Christmas would be incomplete without Brigg's story, which has been shown on television every year since its release. The film version of the book religiously followed Briggs style in illustrating: Soft pencil colours. Like a big number of books, this also follows the story of a young child becoming friends with a magical being, like an alive snowman. His stories sparkle into memory as they focus into childhood, meaning children going through adventures and difficulties to grow up and finally face adulthood.
"The creator of many books for childern, Ramond Briggs often fashioned books that proved to be controversial. However, in The Snowman, Briggs stayed within the pure realm of Childhood fantasy. Its very success for over a quarter of a century demonstrates the power of art alone, without words, in telling stories for children."
( Silvey.2004:19)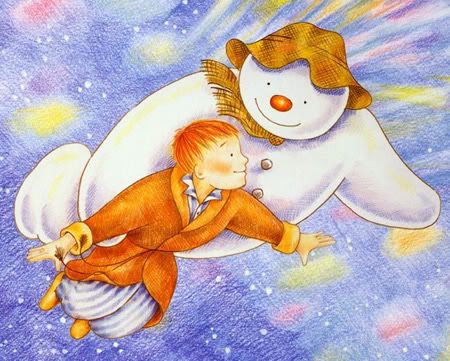 FIG.2
Yet, Briggs is not only focusing on children's stories but deals with political and social subject matters. Since publishing his nuclear holocaust fable "When the Wind Blows" Briggs proved how illustrative drawing can actually support a serious matter like war. It tells the story of a young couple trying to survive after a nuclear attack and are not aware that danger is still on even after an attack, and that is radiation which slowly leads them to death. What makes the story so touching is the characters themselves who as an old couple talk a lot and over-analyse most subjects ignoring the fact that radiation is gradually making them sick. There are a few films that attempt to realistically describe life after a bomb. This film, unlike the Hollywood productions which have to have an optimistic ending, takes a different approach and uses animation with a soothing message from the government: make a shelter and keep some food or drink. But the very end is tragic , where there is no more government but just yourself surviving through the disaster.
"Brigg's simple, whimsicle art is the perfect mirror for these characters; it, too, is unable to depict the magnitude of what happened . Briggs rarely shows anything directly, instead letting the conversation of the characters reveal the horrible effects of radiation."
(Rothchild.1995:94)
FIG.3
In conclusion, what makes Brigg's illustrations and stories so effective is firstly his simplicity in his characters and style and his ability to make his characters believeable. These characters are not facing evil villains but eveyday problems and even themselves. They are challenging their own limits and learn to confront their difficulties, ans grow up or face death.
Bibliography
Silvey, Anita (2004)
100 Best Books for Children.
USA
Rothchild, Aviva (1995)
Graphic Novels.
USA: Libraries Unlimited, Inc
List of Illustrations
FIG.1: R. Briggs At:
http://www.telegraph.co.uk/culture/books/3670140/Raymond-Briggs-I-dont-believe-in-happy-endings.html
(accessed on 5/4/2011)
FIG.2: The Snowman At:
http://brighton-graphic-design.com/2011/03/21/famous-brighton-graphic-design-artists-raymond-briggs/
(accessed on 5/4/2011)
FIG.3: