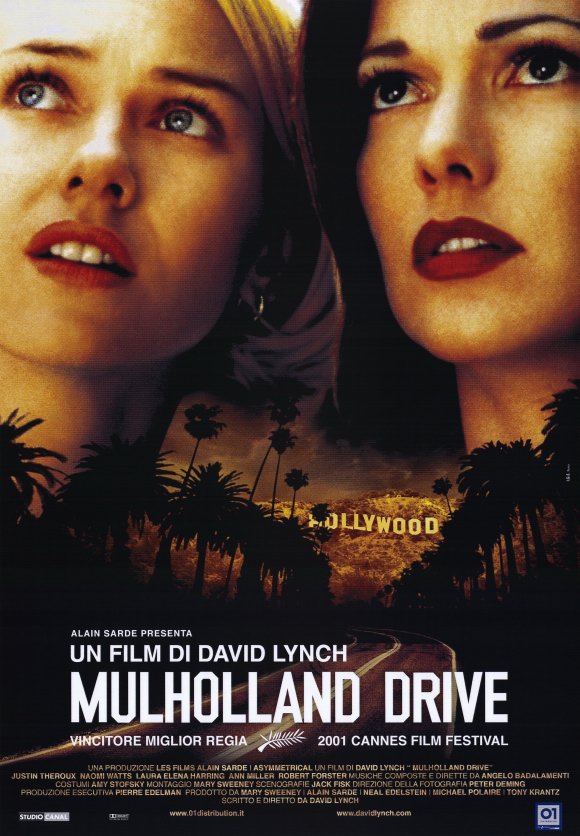 FIG.1: Mulholland Drive Poster
Director: David Lynch
Producer: Neal Edelstein
Cast: Naomi Watts, Justin Theroux, Laura Harring, Ann Miller, Robert Forster
Year: 2001
FIG.2: Betty and Rita
Mulholland Drive is the story of Betty a young woman who sets off to L.A Hollywood, to chase her dreams in becoming a successful actress. But her journey will lead her to Rita, a woman lost in her memories, who's trying to find who she really is. Rita is a really distressful character and Betty is the one who keeps her together-this bond forms a really powerful friendship/relationship which somehow brings a twist to both characters and Betty becomes the distressful one. Then there is this obvious contrast shaped within the two women, a contrast of darkness and light and a role which eventually switches.
The opening of the film is a very symbolic one. It takes place in a dark road, a road that seems like it's locked back in time. It is all by itself in the crest of the mountains and gives the opportunity to overlook many places like the valley or Hollywood. It is curvy and gives a feeling of a Dreamroad, a road that can either lead you to luminous success or in the darkness- but it is entirely your choice which path to choose.
FIG.3: The Director Adam Kesher
David Lynch always had an interesting way of thinking in terms of lighting. He uses Los Angeles as his location- a bright city filled with sunlight. The light is what brings people into this 'Dreamland', it has a feeling of happiness, that everything's possible in this world. Of course, Lynch prefers to go deeper into this city and prove that its not all linked with glory and wealth but has some hidden, schizophrenic nature into it; it is a blend of innocence and guilt, love and loneliness. In other words, L.A, like any other city, is many things together, not just one. It is many feelings in different places, places where you catch different moods, and sometimes these moods can can feed into a film and give you ideas.
To sum up, Mulholland Drive follows the example of a typical 'Lynch Film'. It touches the unconscious and the psyche of people. Film is all about feelings, like music and if the mind gets engaged, there is a thing called intuition that makes you feel and think till you have this inner knowing of the film. His films are not intellectual; they don't use words. It takes a certain attitude to watch his films, and it is really rewarding for the people who take the risk to explore his inner world and draw their own conclusions on his work.
Bibliography
Rodley, Chris (2007). Lynch on Lynch. Faber and Faber Inc.: USA
Booker, Keith (2007 ). Postmodern Hollywood: What's new in film and why it makes us feel so strange. USA
List of Illustrations